BOTANY

| Dept. Profile |
The Department of Botany was established in 1981. There are four faculty members with an average experience of fifteen years. They have been discharging their responsibilities to the best of their abilities producing well-qualified students to be the members of excellent human resources of the nation. The department offers a UG course of B.Sc. – Botany, Zoology and Chemistry (EM&TM)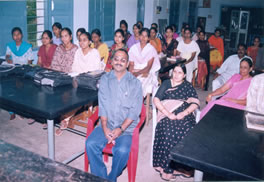 Smt. T. Umadevi, Associate Professor, and Head of the Department, is pursuing Ph.D. on "Genetics and Plant Breeding". She has served the institution in the capacity of a member of various committees like sports committee, library committee etc. She is also a member on the Board of Studies of UG examinations, S.K. University, Anantapur.
Dr. C. Prabhakara Raju, Associate Professor, has 27 years of teaching experience and published 17 research articles in national and international journals. He attended several national seminars/ workshops /conferences and presented papers. He authored a Question Bank for IIIrd B.Sc. students. He has also contributed a chapter on 'Asteraceae' to the volume two of "Flora of Andhra Pradesh". His name is enlisted as South Indian Taxonomist in the Directory of Indian Taxonomists. A former NSS programme officer, Dr. Raju has been extensively participating in community service involving various service organizations like the Lions Club, the Indian Red Cross Society, Janavignana Vedika, Nehru Yuva Kendra and District Science Center, Anantapur, apart from his academic activism. In recognition of his commendable performance, the Government of Andhra Pradesh honoured him with State Meritorious Teacher Award in 2004.
Lt. B.V. Ramana Naidu, Associate Professor,who has been pursuing Ph.D. on "Floristic Studies of Asteraceae in Eastern Ghats", published six research articles in reputed national journals. Besides, he is an active NCC Officer of the Battalion 41 A & B Platoon with 134 women cadets. He is actively involved in community service in association with various service units like the Indian Red Cross Society, Lions Club and Vikalanga Punarvas Yojana of Bharath Vikas Parishath.
To enrich their knowledge and teaching, the faculty of the Department has been participating in seminars, symposia, workshops and interacting with University Department on various issues of Academic interest. They are the resource persons in subject related matters to various schools and Junior colleges in and around the town. They are question paper setters for various degree colleges and universities. Under the Autonomous system, they are effectively catering to the needs of 240 students in the department. They have been guiding and assisting students in the preparation of models in the subject, to carry out projects successfully and to submit project report, so as to develop research skills among students.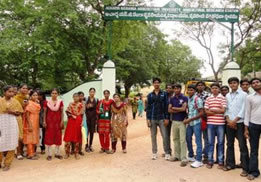 Autonomy and NAAC's grading enabled the department to frame the syllabus considering the needs of the students in present day circumstances of globalization, advancements in technology and syllabi of various competitive examinations. An additional paper "Plants in Human Welfare" under Choice Based Inter Disciplinary Electives has been introduced for B.Com., students from this academic year. There are two well-furnished, well-equipped and spacious laboratories for conducting practicals in Botany. They have modern scientific equipment like Colorimeters, pH meters, High Speed Centrifuge, Thermostatic Ovens, Incubators, Thermostatic water bath, 70 microscopes, one OHP apart from adequate glassware and chemicals. A Botanical museum with a good number of plant specimens show-cased in glass cabinets and a herbarium prepared by the teachers from the plant collections are useful learning resources for the students.
The Department is employing both traditional and modern teaching methods supported by modern technology. The faculty uses teaching aids like bio -visual charts covering the entire range of curricula, Micro slides, herbarium, museum specimens and models and LCD projector to enhance the impact of teaching and learning activity. To enrich the students' knowledge, botanical tours are made part of the curriculum. The tours comprise one field trip to cover the local environs and the other to a place of floristic significance outside the district. Class seminars on specific topics, group discussions and quiz programmes on the subjects prescribed form part of regular academic activity. The department organized a two day national seminar on "Emerging Materials and Technologies" in October 2010 to involve the teachers and the students in the acquisition of latest knowledge in the field and gain research bent of mind.
The department is planning for
Establishment of a Research Centre
Introduction of self-employment oriented add-on certificate courses
Preparation of proposals for research projects from the UGC
Preparing proposals for starting M.Sc. Botany.
| Home | Departments |