COMMERCE & BUSINESS MANAGEMENT
The Department of Commerce was started in the year 1981. During all these 31 significant years of functioning, the Department has grown steadily in tune with the growth-pattern of the industry and job market. It is one of the largest departments of the college with eleven faculty members – 4 Associate Professors, 6 Assistant Professors and 1 guest faculty – facilitating excellent learning ambiance for a huge students strength of 760 including 380 (50%) women. At present the department is offering the following general and self-financing UG courses
B.Com. (TM&EM)
B.Com (Computer Applications) (EM)
BBM (Bachelor of Business Management) (EM)
Accounting Executive Course (Tally 9.0)–4 Months Add-on certificate course
The Department has been maintaining a pass percentage of 75 with its committed and relentless efforts.
A
s a result of thorough interactions with industry, job market and alumni, it was found that business management graduates had immediate job opportunities. Keeping this in view, the college started BBM during the academic year 2009-10 with Dr.N.Ravi Sankar as the course in-charge. The following are the salient features of the course.
Contemporary Market-Relevant Subjects.
Papers of study with Global exposure.
Project-work in a business concern is part of the course.
Industrial tours.
Excellent academic ambience reinforced by guest lectures, interactive sessions with eminent professors and CEOs from University's and Industries.
94% achievement of pass percentage of the first batch of students.
Placements through campus selections.
After careful assessment of market trends and the potentiality for employment, the college has started M.Com., (General) from the current academic year. To give more employment orientation to the courses of General B.Com and B.Com., (Computer Applications), the college started a Government-sponsored Accounting Executive course (Tally 9.0) of 4 months duration in 2009. The course is offered in the afternoon session with more practical orientation in the JKC without affecting the regular classwork. It is a matter of pride to mention that more than 90% of B.Com graduates trained in the course secured jobs in public as well as private concerns including software industry.
The department frames its own syllabi in the Board of Studies (BOS) under the guidance of outside experts including one nominee from business and industry and gets the same ratified in the Academic Council, as the institution is autonomous. For the PG course, the department is guided by the S.K. University, Anantapur, for syllabus, question paper pattern, examinations and results. The curriculum is designed keeping in view the market trends and the changing needs of society.
Dr. K. Nirmalamma, Principal and Associate Professor, is the senior most faculty of the department with 31 years of distinguished teaching experience. An erudite scholar and eminent teacher, she has produced 3 M.Phils., and published 8 research papers in national reputed journals. She has participated and presented papers at national seminars /workshops / conferences. Exhibiting utmost concern for equal rights for women, she is instrumental in organizing a number of gender sensitizing programmes for the benefit of women staff and students. She has organized a number of health awareness programmes exclusively for women students. She has also participated in rallies and processions to mark national and international days – World Aids Day, Literacy Day, Human Rights Day, Blood Donors Day etc. She has been associating with several women and service organizations like the Lions Club, Rotary Club, IRCS, Manavatha Blood Donors Association and REDS, Anantapur. In recognition of her academic performance and self-less service the Government of Andhra Pradesh honoured her with State Meritorious Award in 2005.
Sri P Ravi Sankar, Associate Professor and Head, has 28 years of teaching experience. A specialist teacher in Banking and Advanced accountancy, he has authored two textbooks on "Quantitative Technics", meant for B.Com students, published by Himalaya Publishers, Hyderabad. A former NSS programme Officer, he organized a Special Camp at Bommeparthy involving students and villagers in community service. He also organized several awareness programmes on HIV/AIDS, voluntary blood donation, the disadvantages of the social evils like dowry system, illiteracy etc.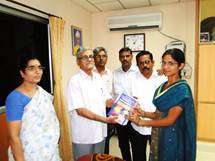 Dr. N. Ravi Sankar, Associate professor, has 28 years of teaching experience. A bright researcher to the core, he has published 15 research articles in national journals of repute, attended and presented papers at national seminars/workshops/conferences. He is also guiding research scholars of various universities in the nation for the award of M.Phil.,/Ph.Ds. He has produced four M.Phils., so far. He has authored a book on "Business Correspondence and Report Writing", for III B.com Telugu Medium students, brought out by Himalaya Publishers, Hyderabad.
Dr. J. Polappa, Associate Professor, has 21 years of teaching experience with specialization in teaching 'Personal Management and Industrial Relations'. He has produced one M.Phil., and participated in national seminars/workshops/conferences. He has authored a book on "Industrial Relation" published by Indian Publications, New Delhi in 2002. As a former NSS programme officer, he involved students in community service in villages like Bommeparthi. He has also organized awareness programmes on various social issues like dowry system.
The other Management Appointees and the guest faculty are competent enough to make the teaching and learning process an effective one.
T
he department is committed to provide the students with the required infrastructure and learning resources for quality education. A well-furnished computer laboratory, ten classrooms and departmental library with 250 books. Besides classroom teaching, the teachers employ innovative teaching methods like discussion and interviews. The teachers use the teaching aids including OHP, business news and charts for the benefit of the students. The department has introduced additional papers "Elements of Financial Accounting for I year BSc, (MSCS) students and "Introduction to
M
anagement" for I year B.Sc. (MECS) under CBIDE to enable the science students to broaden their knowledge base.
It is a continuous process of the department to work hard not only for the academic progress of the students but also for their overall development. The pass percentage of the students has been above 75% on an average. The progression of the students has also been excellent. The percentage of students who reach the universities is around 75% and those who reach the level of M.Phil., or Ph.D., is around 10%. The department also constantly monitors the progress of the students by getting feedback from them with regard to the curriculum teaching-learning-evaluation. The faculty regularly conducts seminars, guest lectures, group discussions, quiz programmes etc. The teachers identify slow learners and take remedial classes for their improvement under UGC-sponsored scheme. It involves the students in basic research projects, takes them to factories and business establishments as part of beyond syllabus scholarly activities.
The students of the department are active participants in community service activities. Many of them are important members of the college NSS, NCC and Red Ribbon Club. The teachers encourage them to organize and participate in a number of awareness programmes on HIV/AIDS, voluntary blood donation, the ill-effects of child marriages, dowry system and illiteracy. K.Jhansi, a B.Com., student of 2008-2011 batch honoured with State Best NSS Volunteer by NSS Cell of AP State Government in September 2012.
The alumni of the department (some names are given in the report) have been serving in various state, central government and private organizations in such cadres as chartered accountants, law practitioners, administrators, entrepreneurs, managers, lecturers etc. They often visit the department and interact with the present students. Their valuable suggestions are considered for implementation for enhancing the academic and employability skills. The department is resolved to start M.Com., (Professional), MBA and employment- oriented certificate courses, to establish a research center and strengthen the alumni base.
| Home | Departments |