ZOOLOGY

| Dept. Profile |
In view of the rapid expansion of the frontiers of animal science as one of the important subjects of study, the College established The Department of Zoology in 1982 with following UG course and subject combinations.
B.Sc., 1. Botany-Zoology-Chemistry (TM&EM)
2. Biochemistry-Zoology-Chemistry (English Medium)
Taking into consideration the need for more employment opportunities for our young graduates, the department started a restructured course – B.Sc., Biochemistry-Zoology-Chemistry (English Medium) in 1993-94.
A distinguished teaching faculty of Zoology has served the department since its establishment. At present there are two regular Associate Professors and one Assistant Professor in the department taking care of the academic needs of more than 250 students.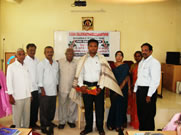 Dr. B.Sivaramakrishna, Associate Professor, Head and Coordinator of NAAC Steering Committee for Accreditation and Reaccreditation, with more than 29 years of illustrious teaching and research career, has published 30 research papers in national and international reputed journals. He has also participated and presented 25 papers at national seminars /workshops/conferences. He has produced 7 M.Phils., and is guiding Ph.D. scholars. A man of teaching credentials, he has contributed 2 units and edited the textbook of Zoology for Intermediate, authored and edited two textbooks for I and III year B.Sc. brought out by Spectrum Publications, Hyderabad. He is a professional member of the Indian Biophysical Society, Mendelian Society of India, and National Environmental Science Academy. He is also serving various academic bodies including the Board of Studies, S.K. University, OTRI, JNTU College of Engineering, Anantapur, besides being the member of the advisory committee of the District Science Centre and participated in District and State Level Science Fares for two decades. He was an adjudicator for the 93rd Indian Children Science Congress held at Hyderabad, and also acted as the Quiz Master for YUVA Adolescent Quiz Programme in 2008. He is instrumental in the conduct of a two day "Lab-to-Land" programme benefitting more than 200 high school teachers in the district. He came into limelight when the National Environmental Science Academy (NESA), New Delhi honoured him with "Best Scientist Award" in 1993. He is associated with international voluntary service organizations like the Lions Club and the Rotary Club and local organizations like Janavignana Vedika . He is the present Vice President and PRO of the Lions club of Anantapur. He participated actively in social, cultural, and community service activities in association with voluntary social organizations. In recognition of his commendable performance, the Government of Andhra Pradesh honoured him with "State Meritorious Teacher Award" in 1994.

Dr. S. Murali Mohan, another Associate Professor with more than 29 years of successful teaching and research experience, has published 6 research papers in national and international journals, presented papers at national seminars /workshops/ conferences and is guiding M.Phil.,/Ph.D., scholars. He has contributed 2 units to the textbook of Zoology for Intermediate brought out by Spectrum Publications, Hyderabad. Smt. E.Sirisha, Assistant professor, who has 8 years of teaching experience, is specialized in teaching physiology, committed to her profession and immensely contributed to the commendable pass percentage (90%) of the students.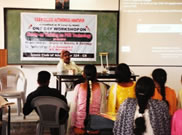 He has been the District Coordinator and Resource Person for Refresher Training programmes for lecturers on HIV/AIDS, Nehru Yuvaka Kendra and District Science Centre. A former active NSS Programme Officer from 2003 to 2009, he received Best Programme Officer award from S.K. University, Anantapur. He represented S.K. University, Anantapur as the team leader at National Integration Camp, Agra, sponsored by Govt. of India, Ministry of Youth Affairs and Sports organized from 19th to 25th October, 2004. He was selected by NSS Regional Centre to lead the A.P. contingent (NSS) at Republic Day Parade on 26th January 2007. He is associated with various social service organizations like Indian Red Cross Society, Jana Vignana Vedika, Manavatha, Bharath Vikas Parishad, Seshasai Home for Disabled, YUVA Association etc. He is presently the Vice President of Lions Club of Anantapur.
There are two well-furnished and well-equipped spacious laboratories for the department for conducting practicals. A museum with a good number of preserved specimens showcased in glass cabinets is an added advantage for the students in the lab. Our students collected some of them during their Zoological tours. The museum is highly useful to the students as well as teachers in enriching morphological knowledge of different animal species. The lab has advanced scientific equipment like colorimeters, pH meter, high-speed centrifuge, research microscope, thermostatic ovens, thermostatic water bath, refrigerator etc.
The department has been employing innovative teaching techniques for imparting quality education. For instance, discussion is made an integral part of teaching. One of the practical hours every fortnight is used for the purpose. Topics in the regular syllabus are briefly outlined at least seven days in advance. The entire class is to come prepared for a discussion on the topic, monitored by a staff member. The process initiated by a couple of questions from the teacher, slowly gains momentum and a lively discussion follows. Quite a large number of students, who are usually silent spectators, take active part with the encouragement of the teacher. Considerable amount of syllabus and curriculum is covered and repeated in this way.
In the process of imparting quality education, the faculty is using ICT-enabled teaching aids including, glass boards, Bio-visual charts, LCD, OHP, a good number of permanent microscopic slides, biological specimens, charts, models and a few relevant CDs. Besides, the students were also academically assisted by the departmental library with more than 200 titles.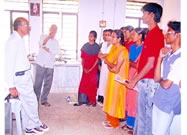 The student enrichment programmes like guest lectures by eminent university professors and field trips to the research institutions like Central Sericulture Research Centre, Rapthadu have also been organized. For keeping abreast of the latest developments in animal science in the highly competitive world, the department has introduced a new paper "Health Management" under CBIDE for Commerce and B.Sc., (MPC) students. To give a different academic exposure to our students the department organized seminars on "Career Opportunities in Life Sciences", "B-Cell & T-Cell Pattern of Antigen Reorganization, Responses and Consequences" and workshops on "PCR Technology" and "Fruit Preservation Technology".

The teachers of the department have special focus on involving and improving presentation and articulation skills of students through seminars, group discussions and quiz competitions etc. They also guide the students to undertake study projects of local relevance to develop their research abilities and skills of interpretation. The teachers of the department frequently take up remedial coaching classes and counseling sessions to the students in respective subjects to improve their performance in the semester end examination.
The department is also assisting the students through Students Club – pursuit – focusing on curricular and extra- curricular activities for effective participation and expression. The department has encouraged students to participate in curricular and extra-curricular activities including sports, NSS and NCC activities. In tune with the slogan "personality development through community service," the teachers actively participated and involved the students in participating and organizing various awareness programmes on HIV/AIDS, communicable health hazards, blood grouping, voluntary blood donation, literacy and gender sensitizing programmes including raging, eve-teasing and dowry system.
As a result of these enriching facilities and the committed efforts of the faculty, students have become responsible citizens serving various private and public concerns with respectable positions like software engineers, professors, revenue divisional officers, municipal commissioners, DSPs etc. Our Alumni, showing a lot of concern for the Institution, donated Rs.75,000/- towards instituting an endowment scholarship.
The department proposes to
start M.Sc. Zoology
establish a Research Centre
secure UGC Major Research Projects
introduce add-on courses with employment orientation like 'Lab Technician', 'Food Processing and Preservation'
| Home | Departments |